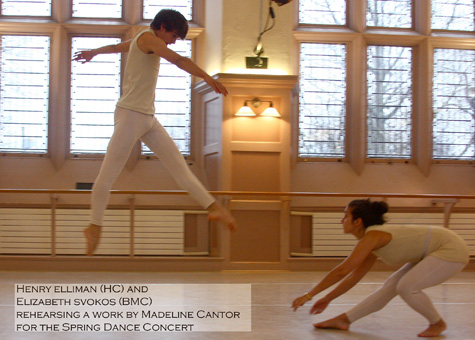 Ballet, Modern, Jazz, African, hip-hop—the annual Spring Dance Concert has it all. Bryn Mawr and Haverford students will perform in this
annual concert of Faculty works.
Friday and Saturday, April 22 and 23
7:30 p.m. in Goodhart

Free admission. . .Reception follows
The program features the work of several crtitically acknowledged dance artists and choreographers
including:
Madeline Cantor, Associate Director of the Dance Program
Dinita Askew, performer with Rennie Harris PureMovement
Myra Bazell, co-Director of Scrap Dance Collective
Nia Eubanks-Dixon, formerly of Urban Bush Women and Philadanco
Jorge Laico, director of Wilmington Ballet Academy of Dance
Meredith Rainey, formerly of Pennsylvania Ballet and founder of Carbon Dance Theatre
Michelle Stortz, artistic director of ring Dance Theatre.
For more information on the choreographers, go to
http://www.brynmawr.edu/dance/people/
For concert information call 610-526-5210.