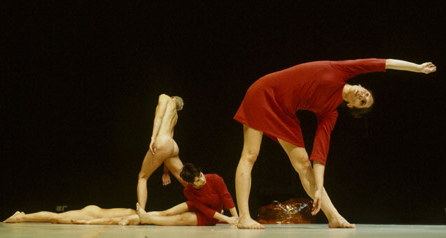 JOHN JASPERSE COMPANY in residence at Bryn Mawr – A full week of events including master classes, a symposium on the contemporary performance of body and gender, and a premier of his latest dance work.
John Jasperse, one of the most important dance artists working today, is set to remount his groundbreaking Fort Blossom at Bryn Mawr this winter. Supported with funds from The Pew Center for Arts & Heritage through Dance Advance, Jasperse revisits the work, which reveals the body in all its facets as simultaneously special, even miraculous, and ordinary.
"When John Jasperse makes a new work it should be seen; end of story." New York Times
PERFORMANCE:
JOHN JASPERSE COMPANY, FORT BLOSSOM REVISITED 2000/2012Friday – Sunday February 24-26
8 p.m. Friday, 2 p.m. and 8 p.m. Saturday, 2 p.m. Sunday
Hepburn Teaching Theater, Goodhart Hall
Tri-co students, faculty, staff -Free
Discounted tickets for Seniors, Dance Pass, and other students
(Adult themes)
RESIDENCY EVENTS (Free and open to the public; reservations required where noted)
John Jasperse Company will take up residence at Bryn Mawr the week prior to the performances, creating opportunities for the public and students to engage with this articulate and controversial artist.
Symposium: The Contemporary Performance of Sex, Gender and Embodiment
Saturday, Feb. 18, 2012, 1-5 p.m.
Panelists include: Dr. Ann Cooper Albright, Dr. Mark Broomfield, Gregory Holt, John Jasperse, RoseAnne Spradlin, moderated by Dr. Linda Caruso Haviland.
 Master Class
Monday, Feb. 20, 4:30–6 p.m.
Swarthmore College, Lang Performing Arts Center, Troy Dance Lab
For reservations call 610.957.6179
Open Rehearsal with Q&A
Tuesday, Feb. 21, 2012, 2:15-3:45 p.m.
Bryn Mawr College, Hepburn Teaching Theater, Goodhart Hall
For information call 610-526-5210 or email aclarke@brynmawr.edu
 Visual Culture Colloquium
Wednesday, Feb. 22, 2012, 12:30-1:45 p.m.
Jasperse on "Transformations of the Audience/Performer Relationship"
Bryn Mawr College, Thomas Hall 224
(sponsored in part by the Center for Visual Culture)
 Master Class
Thursday, Feb. 23, 2012, 4-5:30 p.m.
Bryn Mawr College, Pembroke Studio, reservations required.
Reservations required
Call 610-526-521 or email aclarke@brynmawr.edu