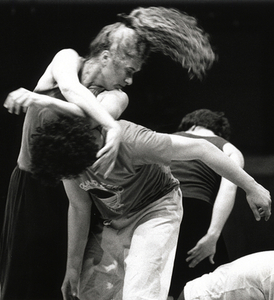 Thursday, February 16
6:30-8:00   Denbigh Studio, Bryn Mawr College
(space is limited, email lcarusoh@brynmawr.edu to register)
Ann Cooper Albright will lead the Thursday night Improv Class and other interested movers in an evening of that explores the state of mindfulness within the improvisatory moment or moments. Ann is a practicing Contact Improviser and author of several books of dance scholarship. She is a BMC alum and is presently a professor in dance at Oberlin.
"…the changing of the course of things and the riding of that course through its course are mindful and bodyful.  Rather than suppress any functions of mind, improvisation's bodily mindfulness summons up a kind of hyperawareness of the relation between immediate action and overal shape, between that which is about to take place or is taking place and that which has and will take place…"  Susan Leigh Foster from Taken by Surprise: a dance improvisation reader, eds. Cooper Albright and Gere