This Spring, the Bryn Mawr College Dance Program is sponsoring a reconstruction of Psalm, a 1967 work by modern dance master José Limón (1908 – 1972). The work will be taught by, Ryoko Kudo, a dancer for nearly decade with the José Limón Dance Company and a reconstructor from the Limón Foundation. The Audition is Fri., Jan. 20 from 6:00 – 8:00 pm in Pem Studio. Rehearsals will be held over  three intensive weekend rehearsal periods (the times are approximate): Saturday and Sunday, Jan. 21 – 22 from 10 am to 4:30; Saturday, Jan. 28 from 11:00 am to 5 pm  and Sunday, Jan. 29 from 10:00 to 4:00; Friday Feb. 3 from 6:30 to 9:00 pm,  and Saturday, Feb. 4 from 11:00 am to 5:00, and on Sunday, Feb 3 from 9 am to 11:30 am. Dancers must be available for all rehearsals. Ongoing rehearsals will then take place on Mondays from 4:00 – 5:30. Full day rehearsals will have a lunch break.  Dancers must also be available for three nights during the week of April 16-28 for tech rehearsals and for the weekend performances.
For further information, contact Associate Director of the Dance Program, Madeline Cantor at mcantor@brynmawr.edu.
This is a rare opportunity to learn and perform a work from the historical modern dance repertory.  Psalm is a powerful ensemble work that weaves together belief and ritual. Limón's choreography emphasizes the natural rhythms of fall and recovery and the use of breath and weight and offers an inspiring process of discovery for student dancers.
It was first choreographed by Limón in 1967 for his company and was then restaged by Limón Company director Carla Maxwell in 2002.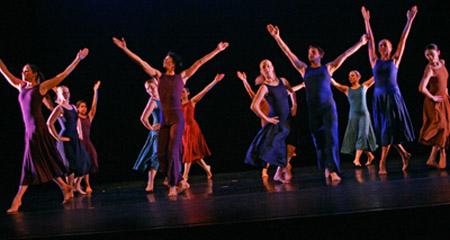 Dancers from the University of California at Santa Barbara in Psalm.
(Photo: Julie Lemberger)