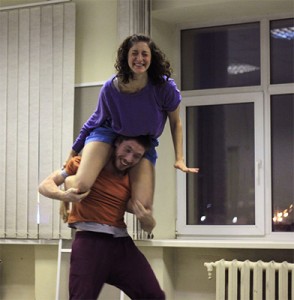 MASTER CLASS
with SHOW NO SHOW artists
Thursday, March 17 at 11:40-1:00pm in PEM STUDIO

We are delighted to sponsor a master class in conjunction with the dance performance, SHOW NO SHOW, a grant supported project that has developed across several months and two continents with in-progress performances in Russia and at American Dance Festival/Culture Mill in the US. It will culminate in a performance at the FRINGE in Philly, next weekend. SHOW NO SHOW is a collaboration between the project director, Gabrielle Revlock, an award-winning performer/dance maker based in NYC who has danced with Lucinda Childs, Susan Rethorst and Jane Comfort. (but formerly from Philly–she choreographed an ensemble work on our students in 2005) and Alexsandr Frolov. a contemporary dancer, choreographer and teacher based in Yekaterinburg, Russia (see bio below).
The class is geared towards intermediate dancers and will include both technique and improv. The dancers will join us for lunch in Haffner afterwards for anyone interested in Russian language or in what's happening with contemporary dance in contemporary Russia!  Questions? Contact the Dance Program at lcarusoh@brynmawr.edu
Aleksandr Frolov is a contemporary dancer, choreographer and teacher based in Yekaterinburg, Russia. He graduated with a degree from the Liberal Arts University of Yekaterinburg and started the duet company Zonk'a with Anna Shchekleina. His work has been presented throughout Russia and he is frequently commissioned to create dances for other companies including the Yekaterinburg Opera and Ballet Theatre. His work has received numerous prizes including Winner of IX All-Russia Festival of Modern Dance. Currently, his work is nominated for a Golden Mask, the most prestigious award for performance in Russia. He was a dancer with Provincial Dances Theatre (Russia) and S'poart (France).

Additional performances and events in Philly for SHOW NO SHOW:
—Saturday, March 19, 1-3pm class at FringeArts $15
Class will start on the floor, sinking into our bodies. As we begin to move, expanding our kinesphere, we will generate warmth through sinuous phrases that extend, contract, roll, and slide. We will cultivate a power which motivates us to hungrily carve through space. From this juicy, sweaty place we will explore dance as a social art form, one that connects us to others. Through games and playful activities we will create partner dances that keep us in the present moment and tap into sensation and imagery. Expect to move vigorously and have fun! Space is limited, RSVP recommended.
—Saturday, March 19, 7pm performance of My Life at Shebang $10
My Life is an autobiographical work where themes of love, transformation, and time are filtered through the personal impressions of one man, based in Yekaterinburg, Russia. Local artist Kristel Baldoz will also perform action is primary: a mode of making in the moment that looks at moving form as thinking form, feeling form as doing form.
—March 24-26, 8pm performance of Show No Show, with Gabrielle Revlock, at FringeArts  March 24, 25,26 8PM, $15
Funny and unpredictable, this duet moves in the spaces between understanding and misunderstanding, play and power, tenderness and conflict.Promo video