For Field trip, new programs supporting student performance ticket purchase, and for PAS info…check out the blog entries following this.
Contact Linda if you have any questions or problems…lcarusoh@brynmawr.edu
Full Fall schedule is at http://www.brynmawr.edu/dance/courses/schedule.html  and Faculty bios at http://www.brynmawr.edu/dance/people/
Many favorites have returned.

and more. . . .
NOTE we're trying a new time for Intermediate Technique: Modern…TTH 5:40-7:00 PM with Michelle Stortz in Denbigh. . .


and, in conjunction with the Haverford Ballet Club, we will be offering a Friday Afternoon Open Ballet Class with Meredith Reffner-Callender, former soloist with the Pennsylvania Ballet, for intermediate or advanced students (Time TBA soon).  Please note that first year BMC students who have to attend the Monday evening 'Thrive' lecture CAN take the Friday class in place of the Monday class if you are taking Adv. Ballet for PE credit.  Upperclass students may use the Friday class for up to two makeup classes whether you are taking it for PE or Academic credit.
BALLET Placement class for first year students interested in ADVANCED or INTERMEDIATE BALLET is Thursday, August 25 at 4:10 in PEM.  Upperclass students who have never taken the ballet placement class but want to enter ballet classes at that level must contact Linda Caruso Haviland (lcarusoh@brynmawr.edu) and expect the first week of classes to be used for placement consideration.
All other classes except ensembles (see below) are self-placed [Beginning level classes are good for those with little to no experience and those who have not danced since childhood and those returning from injury; Intermediate levels require at least 1.5 to 2 years of work in that technique; Advanced levels and most Dance Ensembles presuppose a minimum of 3-5 years of prior dance training; and open level classes, like African and Hip-hop can accommodate beginners as well as with experience in the form].
ENSEMBLES
This Fall, we are offering three ensembles: Modern with Madeline Cantor and Jazz with Shannon Murphy, both of which will be performed in the Spring concert, April 21 and 22. These ensembles are appropriate for intermediate and advanced level dancers. We are also offering Dance Outreach, under the direction of Madeline Cantor, which tours a lecture-dem and a performance piece to Philadelphia public schools. This ensemble selects from dancers with at least two years of training in any technique and a love of performing. In the Spring we will offer ensembles in Modern, Jazz, African and Hip-hop. All are by audition class and all are performed in the concert, Friday and Saturday, April 21 and 22
Modern Ensemble Audition class Wednesday, August 31  4:10 Pem
Jazz Ensemble Audition class Thursday, September 1   5:40  Pem
Dance Outreach informational meeting, Friday September 2  3:40 Pem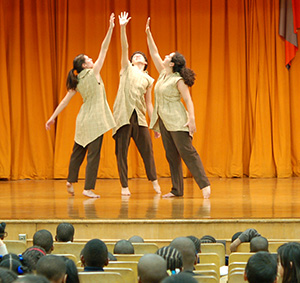 Dance Outreach performance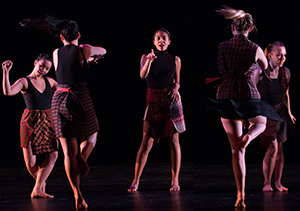 Shannon's piece from the Spring 2015 concert
Academic lecture/seminar courses..
This semester, Linda is offering Performing the Political Body: Dance and Power.  This is a 200 level course and appropriate for 2nd year students and up. In the spring, Linda will offer Approaches to Dance: Themes and perspectives, which is a 100 level course open to anyone but which is a requirement for anyone considering a minor or major in dance. Mady will be offering a .5 half semester course, Dance/Close Reading  in which students will engage in a close reading of dance, using live dance performances as primary texts and setting these performances in critical and historical contexts through readings in dance criticism and theory, activities, discussion and media. Not sure yet whether Anatomy and Physiology for the Dance will be offered.