LOTS of performances going on in the next two weeks; some free and some very affordable with the $10 rebate you receive from the Dance Program's Dance Flip/DanceTrip project when you bring us your receipt(eligibility=enrolled in any Dance Program course this fall or spring).  Lela Aisha Jones is our Consortium for Faculty Diversity fellowship candidate and Kyle Clark is choreographer for this semester's Hip-hop Ensemble.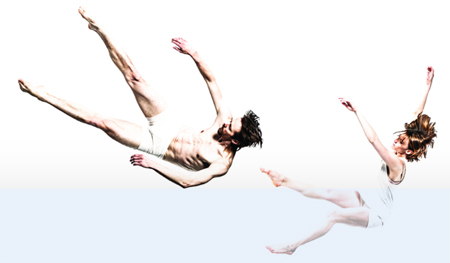 Friday, March 17, 2017 at 8 p.m at Swarthmore College
The Cambrians performing CLOVER
LPAC Pearson-Hall Theater (Main Stage) contact Tara Webb, 610-328-8260, for information.           FREE Admission
Also. . . .   Masterclasses:
Wednesday, March 15, 2017 @11:30AM Int/Adv Ballet
Wednesday, March 15, 2017 @ 4:30PM Choreography
Thursday, March 16, 2017 @11:20AM Int Cuban Contemporary
All in the LPAC Boyer Dance Studio.
The Cambrians is an intimate contemporary dance and storytelling venture whose dancers collaborate and builds its works in different geographical locations that networks and tours outwards from those creative loci. At Swat they will be performing Clover which the Chicago Tribune selected as "one of the top 10 dance performances of 2015.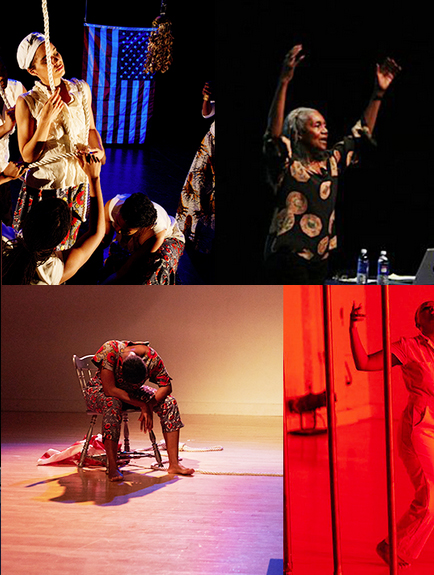 Thursday through Saturday, March 16 — March 18 at The Painted Bride

Lela Aisha Jones and colleagues present three days of performances and workshops at the Painted Bride, 2nd and Vine, Philadelphia 215-925-9914
THE BODY WAILS, THE BODY RESTORES
Thursday, March 16 at 8pm   Film Screening: LYNCHING&LOVE(2012) –PAY WHAT YOU CAN
This filmed version interprets first exposures to noose lynching as experienced by the artists in the work, offers embodied renditions of the contemporary experiences of U.S. blackness/womaness.
Friday March 17 & Saturday March 18 at 6pm –FREE
Brenda Dixon Gottschild (Solo Work): RACE IS THE PLACE IS THE SPACE
Referencing the Aunt Jemima stereotype to set the stage and through performative, embodied lecture, Brenda Dixon Gottschild travels into the present via her Afro-expressionistic interpretation of selected poems.
Friday March 17 & Saturday March 18 at 8pm   –$20 in advance/$25 day of show
THE BODY WAILS, THE BODY RESTORES
This work weaves together contemporary reflections on the tumultuous events surrounding racial confrontations in Philadelphia, South Africa, and North Carolina. The trauma of the past, unresolved and unprocessed, continues to re-occur in our future.
PLUS additional FREE or Pay what you can workshops on Thursday and FridayClick here for full information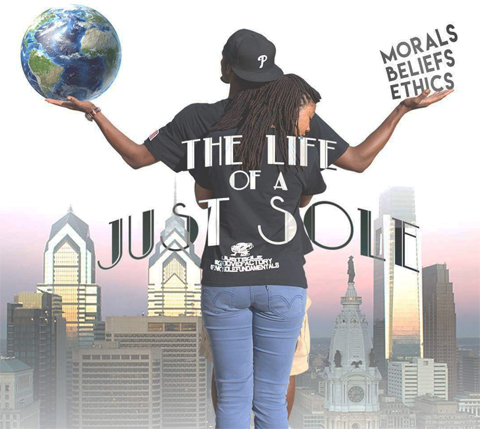 Friday & Saturday, March 17 & 18 at 7pm, March 18 at 2pm at Suzanne Roberts Theatre   Broad and Lombard, center city Philly
Just Sole! Street Dance Theater in THE LIFE OF A JUST SOLE$15 through BrownPaperTickets.com ( http://www.brownpapertickets.com/event/2842937 ) or contact Justsoledance@gmail.com
Choreographer Kyle "JustSole" Clark, his wife and co-choreographer, Dinita aka "Princess Di", and the Just Sole! Street Dance Theater Company, take audiences on a jubilant journey through the multi-layered, dynamic spectrum of interpretative street dance — house, locking, popping, and street social dances — in a physical autobiography of the personal, artistic and spiritual journey.