Eun Jung Choi will be teaching Modern III during the first half of the semester.  She is an independent dance and performance artist who has been working actively since 1996.   Currently she is an artistic co-director of Da·Da·Dance Project, a dada-inspired, duet repertory
company. The company's mission is to challenge traditional notions of art making while promoting social awareness and diversity through collaborative performance efforts. This year, Da·Da·Dance Project has been invited to perform at Live Arts Festival' "eight", International Dance Avant Garde (Merida, Mexico), SIDance Festival (Korea) and Variations in a Foreign Land (New York).  In the company's recent history, performances have included: a Joyce SoHo season (New York), La MaMa International (New York), nEW Festival residency and performances (Philadelphia), Festival Encuentro de Nueva Danza y Nueva Musica (Mexico), XI Muestra Internacional de Danza Contemporanea (Mexico), and a company season at Los Talleres (Mexico).  The company was selected for inclusion in the Pennsylvania Performing Arts on Tour (PennPAT) Roaster 2011.
As an independent artist, she has received funds from New York Danspace Project's 2006-07, 05-06, and 03-04 Commissioning Initiatives, Korean Cultural Services NY, Dance New Amsterdam and Union StreetDance Rehearsal Space Grant. Her choreography has been seen at Sushi Performance and Visual Art (San Diego), CEC (Philadelphia), DancenOw, Danspace Project's City/Dans, Global Exchange, DraftWork, FOOD FOR THOUGHT, DRA, Mexico Now Festival, Danceworks (Milwaukee), Daegue International Festival (Korea), Sexto Encuentro de Nueva Danza (Mexico City), and nEW Festival (Philadelphia).
As a teacher, Eun Jung has taught at the NC Governor's School, Daegue Catholic University (Daegu, Korea), North Carolina School of the Arts, CICO (Center of Choreographic Investigation, Mexico), 72 Horas de Verano en Movimiento (Mexico City), Movimiento Escénico/Laborame (Mexico City), Little Red House School, Tanya Tower, Queens International High School, White Bird Productions, as well as various community workshops in and around New York City.  In 2010, she taught workshops at La Cantera (Mexico City), Chi Movement Center and PhillyPARD, and was commissioned to set a new work on students at Rowen University, Glassboro, NJ.
In addition to her career in dance, Eun Jung is an interdisciplinary video/interactive installation artist and graphic designer. Since receiving her Master's Degree from New York University's Interactive Telecommunications Program in 2003, her works have been presented at various theaters, galleries and commercial venues/parties in both Mexico and the United States. She has created digital contents for non-profit organizations and individual artists as well as commercial companies including Toyota, Nestle, Volkswagen, Telmex, Ford, Phillip Morris and CMS Partners. Her recent video projects include a video series, La Galleria de Humilde, La Casa de La Maestra and Porque no? (2008), a video performance project featuring Lince Siblings from Mexico City; Block Party Concert (2005), a promotional video documentary in cooperation with CMS Partners; Ducks and Geese Tour, cumulative dance performance documentary in collaboration with Bird Brain Dance, directed under choreographer, Jennifer Monson (2003). Her video work, Sliced Mirror (2002) has been seen at The West Wave Dance Festival (San Francisco), La MaMa Moves Festival (New York), Asian American Dance Performances (San Francisco), The Longford Dance Festival (Ireland), Billy De Frank Center (San Jose). Her recent video series, featuring Lince Siblings, has been screened at Joyce SoHo (New York), Encuentro Internacional Nuevos Creadores a Escena (Guadalajara, Mexico),and XI Muestra Internacional de Danza Contemporanea (Oaxaca, Mexico).
Anitra N Keegan will be teaching Ballet III this semester.  Anitra  began her training at the Academy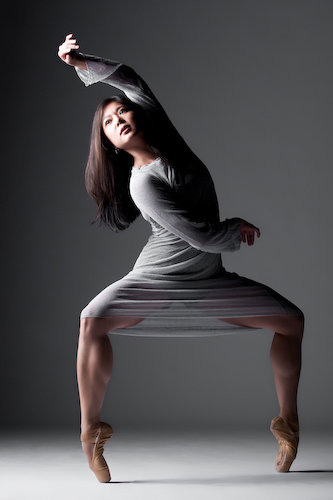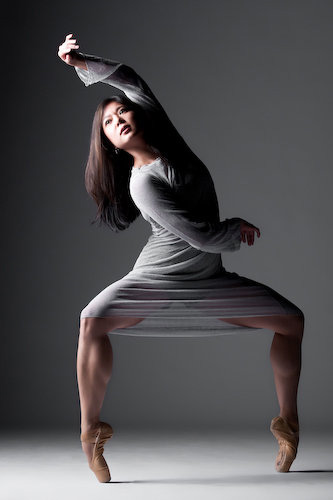 of Dance Arts in New Jersey, where she received honors in both the Dance Education Syllabus and the Royal Academy of Dance examinations. She continued her training at the Royal Academy of Dance in England, Central Pennsylvania Youth Ballet in Carlisle,  and Pennsylvania Ballet School in Philadelphia. After graduating from highschool, she began her professional career with Pennsylvania Ballet Company, Ohio Ballet Company, and American Repertory Ballet Company. Ms. Keegan then moved to New York and continued her dancing career with DancesPatrelle, Chamber Dance Project, BalletNY, where she was featured as "Desdemona" in John Butler's Othello. During this time in her career, she was featured in roles choreographed by Alonzo King, Donald Byrd, Laura Dean, Heinz Poll, George Balanchine, Thaddeus Davis, William Soleau, and Stanton Welch. Upon joining BalletX in Philadelphia, she has had the privilege to have worked with choreographers such as Christine Cox, Matthew Neenan, Annabelle Lopez Ochoa, Jodie Gates,  Edwaard Liang, Alex Ketley, and Meredith Rainey. Ms. Keegan is also a graduate of Mason Gross School of Arts at Rutgers University.