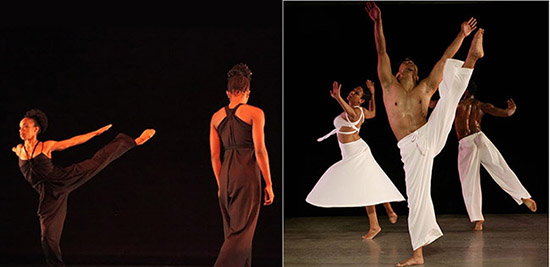 The Bryn Mawr College Performing Arts Series presents Ronald K. Brown / Evidence in Dance and the Spirit on Friday, February 26, 8:00pm in Goodhart. Brown founded the Brooklyn-based Evidence in 1985.  His critically-acclaimed choreography incorporates modern dance, West African movement vocabularies, Afro-Caribbean dance and contemporary urban dance. FREE to tri-co students, faculty, staff but get get your tickets early from the Arts Office (off Goodhart glass lobby) or in the BMC Campus Center ticket giveaway on Wednesday, 2/24 between 11AM and 2PM.
A free MASTER CLASS taught by Ronald K. Brown will take place on Thursday, February 25 from 4 – 5:30pm in Pembroke Studio at Bryn Mawr College. If you are not already enrolled in the advanced modern class on that day, please RSVP with artsadmin@brynmawr.edu.
An informal BRUNCH/ROUNDTABLE DISCUSSION with Ronald K. Brown will take place on Saturday, February 27 from 11am – 12:30pm in in the Dorothy Vernon Room, The Enid Cook '31 Center / New Dorm.  Those without meal plans or passes are invited to purchase brunch.  Coffee/tea will be provided. Admission is free.