Philadanco. . .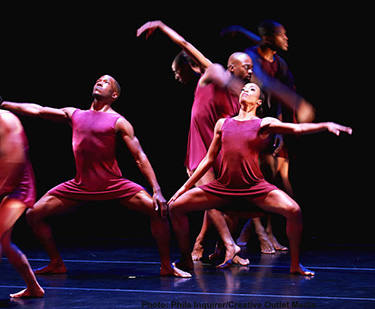 as expected, brought the fully-packed Goodhart Hall to its feet on Friday, September 23, with its performances of repertory by 4 distinguished but very different choreographers: Labess by David Brown (pictured to the left); Hand Singing Song by Jawole Willa Jo Zollar; Between the Lines by Francisco Gella; and one of the company's signature pieces, Enemy Behind the Gates by Christopher Huggins. Amazing and powerful dancing marked this first event of the Performing Arts Series, and we were delighted to see HC alum, Dana Nichols, in three of the works.
On the Thursday prior to the performance, two company members, Janine Beckles and Joe Gonzalez, taught a master class open to our BMC/HC dancers and to dancers from Philly and the community.  The warm-up and center were based on Horton technique, one of the company's core styles, and were followed by the opportunity to learn a very quick and complex section from their repertory.  Janine and Joe were terrific instructors, attending to all of the students in the class, explaining and modelling the technical elements in a really clear way, and enthusiastically encouraging our dancers to go for it full throttle.  It was challenging, informative, and fun.

Joe Gonzalez with Jasmine S., Shivani P., Tali L., and Joy C.in the first line working on their Horton 'T' Lateral.  Janine can be seen working with Joy.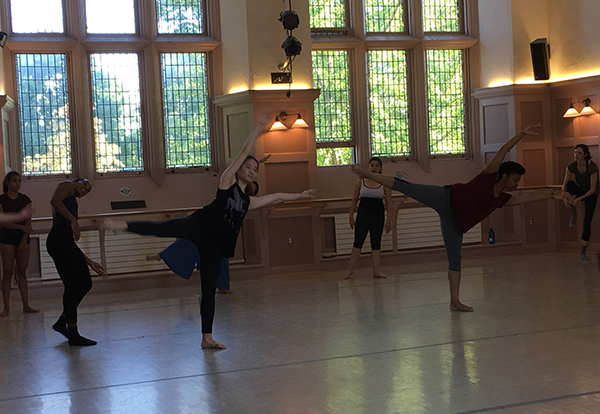 Janine checking out the work of Danielle X. and Diane P.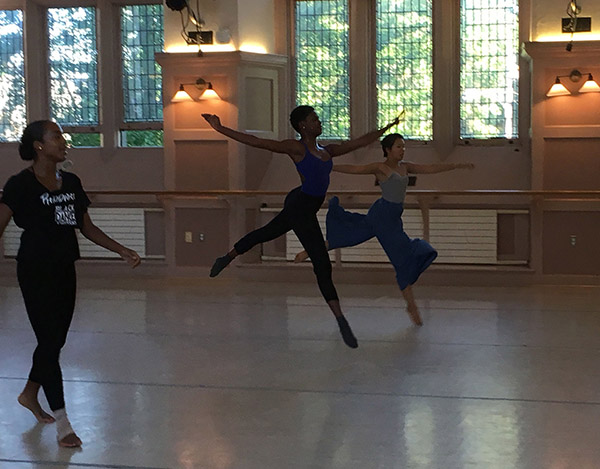 Janine watching Jasmine and Joy mid-air