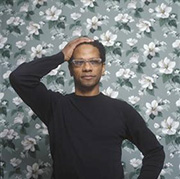 THIS WEEK...February 1st through 3rd,  Bryn Mawr will be hosting Ralph Lemon,  among the more interesting dancer/choreographers in the past 2 decades.  He is a dancer, a choreographer, but is also a visual artist and curator and has been described as "a polymath and shape-shifter," who "builds politically resonant and deeply personal projects" in collaboration with artists around the world.
Events are FREE for Tri-co community
MASTER CLASS… Thusday from 4:10-5:30.  He said that it's not a technique class but more about creative process…asking ourselves questions about dance and dancing and making dances a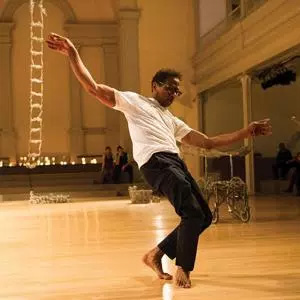 nd then thinking and applying that to body, movement, space.  It's a great opportunity to hang out with a really interesting artist and think about or try out some movement ideas.  He is very low key and interested in talking with and working with students.
CEREMONIES OUT OF THE AIR  (a lecture/performance), on Friday, February 2, at 8 p.m. in Hepburn Teaching Theater, Goodhart Hall. In Ceremonies Out of the Air, he merges live performance, storytelling, and film to invoke his long-standing exploration of the American South.
THE GEOGRAPHY TRILOGY SCREENING  with Ralph Lemon and special guests  on Saturday, February 3, from 1 p.m. to 7:30 p.m. in Hepburn Teaching Theater, Goodhart Hall.
Lemon's The Geography Trilogy is a profound, and worldwide, 10-year inquiry into the social gravities of art, race, and identity at the turn of the 21st century. In addition to their performance, each work generated a book and a film.  All three of his films documenting the Geography Trilogy will be shown with commentary and readings by Lemon and close collaborators Katherine Profeta  (dramaturg) or David Thomson (performer) in-between. (Note, David did his first two plus years at as a student at Haverford College)  Drop in for one or stay for all.
1 p.m. Geography (1997)
3:30 p.m. Tree (2000)
5:45 p.m. Come home Charley Patton (2004)
Geography: a collaborative work about being American, African, brown, black, blue black, male, and artist. Lemon traveled to Africa in search of dancers and a new relationship to the stage. At every juncture the collaboration posed difficult questions about representing African dance and culture within the context of modern America's post-slave heritage and his efforts to negotiate different dance traditions without either erasing or cementing them.
Tree: the second installment in Ralph Lemon's critically acclaimed performance trilogy documents his travels through India, Indonesia, China and Japan as he retraces the Buddha migration map. "More artistic sociologist than mere traveler, Lemon kept journals, drew, collected ephemera, conducted informal interviews, and took photos as he explored performance traditions and met the performers with whom he would eventually choreograph an evening-length work. . .In the process, he worked through his own preconceptions and misconceptions about the people and the places he encountered."
Come Home Charley Patton: Lemon's final work in the trilogy returns him to the US where he journeys the mythic roads of migration in the Deep South searching out "narratives that do justice to traumatic memories like those of lynchings and the struggles of the civil rights movement; working with historical sources on the blues; and reinventing the theater as a space "filled with ancestors telling their stories.