Tuesday, October 18th   7:30PM    Goodhart Music Room
Toni Shapiro-Phim is a cultural anthropologist with a specialization in the arts of Southeast Asia. She received her Ph.D. from Cornell University, writing about the relationship between war, dance and music in Cambodia, and has held research and teaching positions focused on arts and social justice at the University of California, Berkeley, Yale University and Bryn Mawr College and is a founding member of the Cambodia/Southeast Asia Working Group at Rutgers University's Center for the Study of Genocide and Human Rights. Co-editor of Dance, Human Rights and Social Justice: Dignity in Motion (2008), her writing has also appeared in Annihilating Difference: the Anthropology of Genocide (2002), The Encyclopedia of Asian Theatre (2007), The Oxford Encyclopedia of Theatre and Performance (2001) and other books, magazines, and journals. She is currently program specialist at the Philadelphia Folklore Project, where she conducts research about urban expressive culture and coordinates an arts and social change education program.
D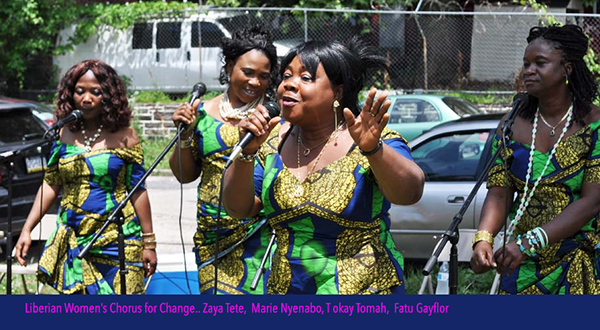 r. Shapiro-Phim will discuss her most recent project, the film, Tokay. Shapiro-Phim directed this film about the famous Liberian performer, Tokay Tomah, who was selected at age 10 to join Liberia's National Cultural Troupe, and who became a lead dancer and eventually, a featured singer. The film focuses on the personal and professional disruption of Tokay's life during the civil war and on her dynamism, creativity and her sense of responsibility to her country and the women of her country in diaspora—all set against the tensions of civil strife and its aftermath.  The film will be shown on Friday October 21, 7PM, at the Scribe Video Center, 4212 Chestnut Street, Philadelphia. You can check out a Liberian music video of Tokay here https://www.youtube.com/watch?v=s3PbHAhtUR8
Living now in the Philadelphia area, Tokay, together with other equally famous Liberian women singers,  have formed the Liberian Women's Chorus for Change.  To hear the performers of LWCC sing and talk about their mission to educate women about abuse and violence go to https://www.youtube.com/watch?v=EJyBDjNWp1g
Dr. Shapiro-Phim is also happy to discuss her work in the camps along the Thai-Cambodian border in the late 1980s, her other research projects, and the field of dance anthropology/ethnology.