The Museum of Dance with Boris Charmatz in Philadelphia; learning the intricacies of Khmer Classical Dance; alumna returns to Philadelphia for performances. . . 

Dylan in rust colored shirt, Bethan in black pants/leotard. Lisa in blue shirt outside.
Dylan Hoffman and Bethan Lodge rehearsed for a full weekend and then performed the next in 1973, under the direction of internationally renowned French choreographer, Boris Charmatz. A structured and directed improvisational work,1973 was performed in the beautiful foyer of the Barnes Museum located in the museum area of the Franklin Parkway in Philadelphia. Over 100 students from area Dance Programs and Departments danced in two performances that were part of the day long Charmatz project entitled Museum of Dance that distributed dance events by professional dance/performance artists and companies throughout the Museum and its grounds.  Also participating was Lisa Kraus, our recently retired coordinator for the Performing Arts Series and a former dancer with Trisha Brown.  She gave a lively lecture-demonstration on the aesthetics and movement of both Trisha Brown and Steve Paxton.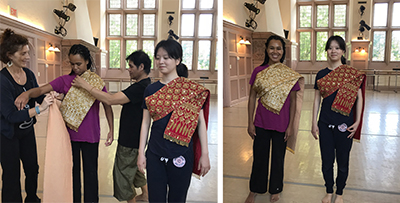 [Agnès Peysson-Zeiss (French Department), Hanna, Chamroeun Yin, and Sayori
Sayori Yoshida and Hannah Higgins both participated recently in a workshop in Khmer (Cambodian) Classical Dance taught by Chamroeun Yin. Yin came to the United States as a Cambodian refugee from the infamous border camps during the period of the Pol Pot genocide, part of the Khmer Classical Dance Troupe, which toured the nation in the 80's.  In addition to his dancing and teaching he creates many of his own costumes and masks.  The event was co-sponsored by Dance, East Asian Languages, and the Cities Programs.  After class, Sayori and Hannah tried on parts of the traditional women's costume, the Sbai.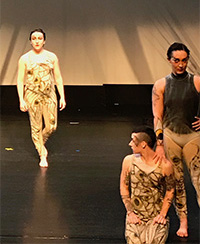 On October 19th and 20th, Amancay Candal Tribe Kugler, HC '15, returned to Philadelphia as part of a quintet that constitutes the contemporary circus company, Yes Ma'am Circus. Amancay graduated cum laude with a B.A. in Psychology from Haverford and Dance from Bryn Mawr . She started learning aerial arts in college, studied in Philadelphia and completed training at the Aloft Circus Arts Full Time Training Program in Chicago.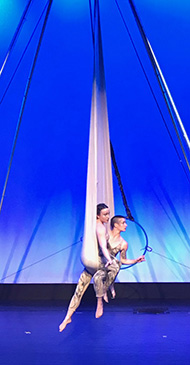 She went on to train in circus instruction at Aloft and studied as well at New England Center
for Circus Arts.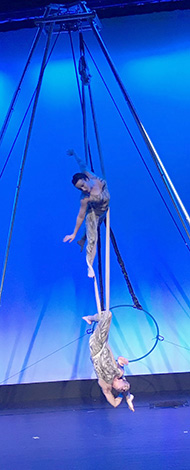 It's Not Me, It's You:
A Paradise Lost Reimagining,
an imaginative, visually beautiful,
and technically impressive  re-rendering of Milton's
Paradise Lost,
Amancay performed the role of the angel,
Uriel (left in first image).
For more on the making of  this production click here