Abby Z and the New Utility will be performing abandoned playground Friday and Saturday, December 7 & 8 in the Hepburn Teaching Theater, 8 PM.  Free admission for Tri-Co students, faculty, staff.
Nine dancers rip through a work of great energy, intensity, surprise, and danger, performing complex sequences of hyper-physical dance. Choreographer Abby Zbikowski draws together influences of hip-hop, tap, and West African dance with a punk aesthetic to create her own movement lexicon. As the dancers push the boundaries of their endurance, they forge an intense ensemble connection through vocalizations and the channeling of communal energy.
AND
MASTER CLASS with Abby Z…. for any intermediate level dancers and up…
warm up, try some movement sequences in her style, improvise a bit….
THURSDAY December 6, 4:10-5:00 PM  in PEM STUDIO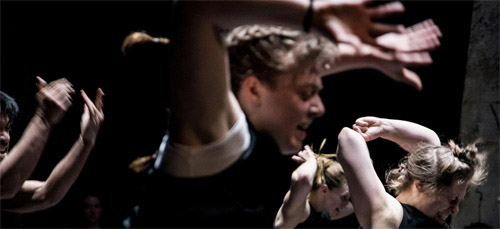 Abby Zbikowski is a choreographer, Assistant Professor of Dance at the University of Illinois, Urbana-Champaign, and faculty member at the American Dance Festival. Her choreographic work with her company, Abby Z and the New Utility, has been presented by the Gibney Dance Center, Movement Research at Danspace Project, and most recently the Abrons Arts Center where the company had a sold out run of its latest evening-length piece, abandoned playground. Zbikowski has been an Artist-in-Residence as part of the nEW Festival in Philadelphia, the American Dance Festival, and the Bates Dance Festival. She has studied intensively at Germaine Acogny's L'École de Sables in Senegal, holds a B.F.A. in dance from Temple University, and an M.F.A. in dance from Ohio State University, where she worked closely with mentors Bebe Miller and Vickie Blaine. As a performer, Zbikowski has worked with Charles O. Anderson/Dance Theater X, Vincent Mantsoe, and the Baker & Tarpaga Dance Project. She has been on faculty at the Ohio State University and has taught technique and creative process abroad at the Academy of Culture in Riga, Latvia as part of Global Practice Sharing, sponsored by Movement Research. In 2017, she received the Juried Bessie Award which recognizes a choreographer who exhibits some of the most interesting and exciting ideas in dance in New York City today.