Saturday, February 16 at 7:30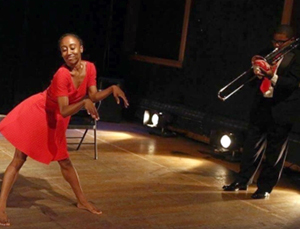 Hepburn Teaching Theater/Goodhart Hall
Bryn Mawr College (GPS location 150 N. Merion Ave, Bryn Mawr, PA)
FREE admission
Faculty choreographers will present their solo choreography and their group work featuring Philadelphia dancers and musicians.
Corinne Karon, will bring Tap Team Two with her, a spirited company of tap dancers who will perform to the music of Vivaldi. They will also perform a work honoring the great, late Philly hoofer LaVaughn Robinson.
Rebecca Malcolm-Naib presents Aria, a duet to the music of Armand Amar.
Dana Powers-Klooster, new to the region, will offer Unlaced, a solo on fear and self-doubt.
Lauren Putty White, veteran of the celebrated Philadanco company, will do a new solo and a duet with trombonist Brent White.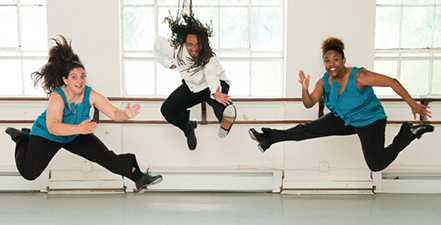 above: Lauren Putty White and Brent White
left: Tap Team Two (Corinne Karon, Robert Burden, Rochelle Marie Haynes)