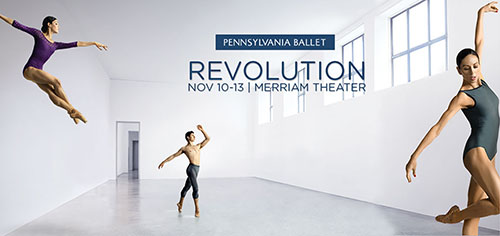 The Dance Program is sponsoring a trip to see the Pennsylvania Ballet on Friday, November 11 at the Merriam Theater in Center City Philadelphia. The company will be doing three works: Square Dance by legendary choreographer George Balanchine, a new work by local phenom Brian Sanders, and The Third Light by British choreographer David Dawson ("…amazing feats of physical elasticity, unexpected musical arrangements, and innovative integration of light.) It will be a varied and exciting program and I hope you can join in!
Tickets are available at an unusually low group ticket price of $18. They are in the side orchestra, a good location.  The Dance Program will cover the cost of van transportation, which will leave Pem Arch at 7:00 pm for the 8:00 show.
If interested, email Mady Cantor right away, and then bring your money (check payable to BMC or cash) to my office in Goodhart 104B. Have it in an envelope and slide under my door. Be sure to label it. All cash looks alike! Latest reply date is this Friday, Nov. 4.
Tickets will go fast! First come, first served.